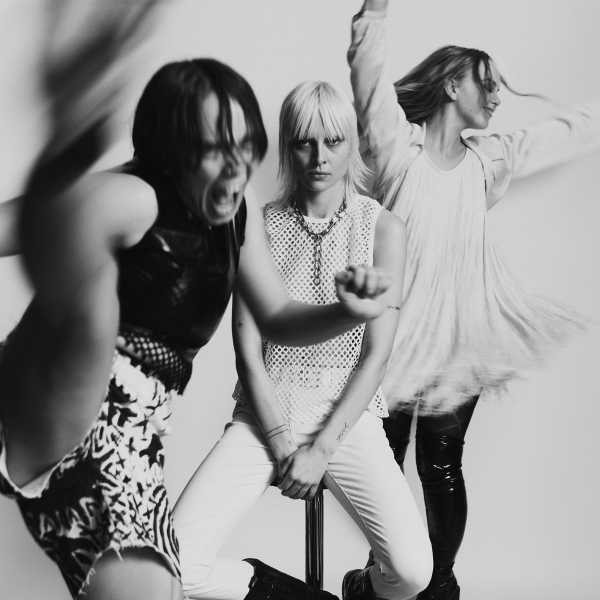 Nu tar Poplistan ett långt break. De tio låtarna har ni hela fyra veckor på er
att lyssna på. Ett svenskt band och resten från UK och USA.
1 Dream Wife (UK)
(BILDEN)
is
a London-based band whose sound is a mixture of punk rock, pop music and indie rock. The band consists of Rakel Mjöll, Alice Go, and Bella Podpadec. In 2018 the band was included on Rolling Stone magazine's list of "The 13 Best Things We Saw" at that year's Lollapalooza music festival.
Whilst not as loud or as brash as their
self-titled debut
,

So When You Gonna…

is a record that shows
Dream Wife
bolder than ever, asking questions and opening doors that few are willing to look at. It asks you what you want and challenges you to go after it.
The opening track, and lead single, "Sports!" is a playful ode to moments spent together in between writing the record, as well as a satire on the seriousness with which people approach sports, with vocalist Rakel Mjöll toying with clichés of sport-talk, singing "dropping balls / missing goals" and "do you even play this sport?" – sarcasm dripping from every word. It's heart lying in the classic sexist condescension of men explaining sports to women. TLOBF
2 L.A. Witch (US)
is an American garage-rock trio formed in Los Angeles, California in 2009. Founded by L.A. natives Sade Sanchez and Irita Pai, the band's sound has been described as a "mix of forlorn psych folk, lethargic lo-fi blues and boozy garage rock drones steeped in moody, drugged-out surf reverb
are back with details of their second album

Play With Fire

, and have released the lead single "I Wanna Lose".
is about feeling free and feeling stronger because you've lost everything and now you've got everything to win. It's about being a punching bag in a martyr-like way, and losing a fight to move on."

TLOBF

Wiki
3 MUZZ (US
)
cinematic and stately Americana from members of Interpol and The Walkmen.
Paul Banks latest meeting of minds sees the Interpol crooner join forces with Josh Kaufman (of folk band Bonny Light Horseman) and Matt Barrick (drummer with
The Walkmen
and ill-fated indie legends Jonathan Fire*Eater). Yes, it's a super-group – but without a lot of the bluster, ego and self-indulgence that often comes with the territory.
Velvet Revolver
they are not. NME
4 HAIM (US)
Dark events of the sisters' recent past inform their revelatory third album on which garage and louche funk combine with west-coast rock.

certain lightness has always played about the work of
Haim
, the three multi-instrumentalist sisters from Los Angeles. Even as their two critically acclaimed albums, indebted to R&B and soft rock, often riffed on romantic angst, a sense of effortlessness remained uppermost in the band's sound. Like their most obvious lodestones, Fleetwood Mac, there was no topic that Haim's retro harmonies could not turn into insouciant-sounding gold.
Haim's third album retains some of their perpetual glide. But this is a set in which everyone is dancing with tears in their eyes, and one where Haim's pat affiliation to 70s west coast truisms undergoes some interesting seepage. More so than ever before, Haim venture outside their musical Hotel California, with jazz saxophone and UK garage beats heading up a lively new intake of sounds.
The Guardian
5 Arbouretum
(US)
E

ven when they were a young Baltimore band,
Arbouretum
felt proudly old. They emerged in the '00s amidst a scene charged with youthful possibility —the electronic fantasias of
Dan Deacon
, the aptly named projections of
Ecstatic Sunshine
, the dream-pop diaries of
Beach House
. Arbouretum, meanwhile, mined
Richard Thompson
's intricate British folk revivalism,
Will Oldham'
s stately country psychedelia, and the gnarled roots of both. The anachronism was alluring, a mysterious shade of gray lurking inside a kaleidoscopic city.

They crackle with the intensity of
Television
and the insistence of
Endless Boogie
throughout the title track, a 12-minute tirade about being overwhelmed by the world but trying to remain open to its wonder. For the second half, Heumann rabidly twists and turns through variations on a note or two, damning expectations of a guitar solo like
Neil Young a half-century ago
. The band cheers him on wordlessly. Pitchfork
6 The Kooks
(UK)
There's a lovely nostalgic tinge to The Kooks' new EP. Unshelved, part I is a collection of funky, guitar-heavy tracks. It's a far cry of the more pop-rock influenced sound the band has put out in recent records. But instead of stepping back towards their post-Britpop roots, The Kooks try out a blues-rock sound. It's a largely successful experiment. At best, the rhythmic rock sound suits the band perfectly, and at worst the band gives us songs that are quickly forgotten.
AOTY
7 Döda Havet (SWE)
är tillbaka med ett nytt album som får dig att tappa känslan för både tid och rum! Albumet släpps 28:e augusti 2020 av Gaphals. Den nya skivan "Tid och rum" är fylld med tunga gitarrer, gripande texter och melodier som präglar såväl din själ som ditt hjärta!
Efter den hyllade debutskivan valde bandet att ta en paus från livescenen för att i stället hänge sig till den kreativa processen i skapandet av nytt material och en ny skiva. Det nya albumet "Tid och rum" är fylld med allt från mjuka pianomelodier, tunga gitarrer, synthesizers, mystiska texter och en sång som tar med lyssnaren genom en resa av själens olika känsloregister.
Döda Havet förmedlar sin skildring av den verklighet vi känner blandat med sina egna upplevelser, i form av melankolisk rock, som ibland avviker i progressiva delar.
Mynewsdesk
8 Porridge Radio (UK)
The second album from the Brighton four-piece is the sound of a band mercilessly digging into itself with a stunning, dynamic performance from singer-songwriter Dana Margolin.
Every Bad

is unabashed sorcery. Margolin's dusky voice and serrated riffs sometimes recall
Polly Jean Harvey
, sometimes the attack of early
Karen O
, but Porridge Radio has devised its own approach to guitar music. The songs balance stoicism with just enough cracked-open ache to feel human. In their quiet-loud dynamics are the exorcisms of a woman who knows that a whisper is often more tormenting than a scream.Pitchfork
9 The Wolfhounds (UK)
are an English
indie pop
[1]
/
noise pop
[2]
band formed in
Romford
,
Essex
in 1985 by Dave Callahan, Paul Clark, Andy Golding, Andy Bolton and Frank Stebbing,
[2]
and originally active until 1990. The band reformed in 2005 and continues to write, record and play live, releasing new albums in 2014
[3]
and 2016.
[
Wiki
10 The Jayhawks (US)
The Jayhawks have today released "Bitter Pill," the latest song from the band's forthcoming record,
XOXO
, out July 10th.Written by Gary Louris, Tim O'Reagan and Karen Grotberg, "Bitter Pill" is a harmony-rich, infectious new track that illustrates the never-ending search for happiness.
Thankfolkforthat
Ni har hela 4 veckor på er nu i juli månad och era röster ska vara lämnade senast