LÜT

från Tromsö öser för fullt på låt 4
Vi börjar 2018 med tio låtar från ... 2017. Det har ju inte hunnit
komma ut så mycket spännande och här finns många bra låtar
som inte jag haft med av någon anledning. Noteras bör tre (!)
norska akter, varav två ganska tunga och så rutinerade Susanne
Sundför. Fleshkiller på nr 9 är något så ovanligt som ett kristet
1 Queens of the Stone Age (US)
have revealed 'The Evil Has Landed', the latest track to be taken from their incoming new album 'Villains'.
A twisted, jolting cut of blues rock, 'The Evil Has Landed' finds the band's effortlessly cool rock 'n' roll on typically swaggering, dust-blasted form.
Produced by Mark Ronson, it's a six-and-a-half-minute mini-epic. NME
2 Ghost Poet (US)
After years of heavy-hearted introspection, the twice Mercury-nominated Obaro Ejimiwe turns his gaze outwards on his fourth album, offering a sombre outlook on society. Woe Is Meee, Ejimiwe's second collaboration with Massive Attack's Daddy G, is a bluesy highlight. Once again, Ejimiwe forgoes the disjointed electronic sounds of his first two records in favour of a hazy alt-rock backing, but he's now at home in this style and his languid, sung-spoken monologues sound their most assured. The Guardian
3 This is the Kit (UK ) The
ramshackle energy propels Moonshine Freeze, the latest from Kate Stables' folk project
This Is the Kit
. With rootsy arrangements of banjo, horns, and gentle percussion, it retains the intimacy of its well-loved predecessor, 2015's
Bashed Out
. But it also offers the Paris-based songwriter's loosest, wildest music to date, exploring a fruitful middle ground between the morbid and the profound.
Pitchfork
4
LÜT
(NO)
Pandion
er en relativt
kort affære på bare 25 minutter, men til gjengjeld er det 25 minutter med foten godt trykket ned på gasspedalen – her spares det ikke på noe.

Albumet har likevel

sine lyspunkter, hvor den melodiøse og fengende «Mer å Vise Til» er en personlig favoritt. En god mosh-pit låt hvor bandet heldigvis ikke tyr til pop-aktige avbrekk for å gjøre ting mer kommersielt. Dette en stil jeg håper LÜT vil komme til å lande på, da jeg føler de er best når de stuper med hodet først ned i kompromissløs hardcore-punk.
Dusken.no
5
Sleaford Mods (UK)
"B.H.S." The song takes its title from a defunct department store chain, whose prior owner, billionaire retail tycoon Sir Philip Green, sold the company for just £1 in 2015. In 2016, it collapsed, pulling Green into a firestorm of
pension obligation disputes
. Sleaford Mods' publicist provided this brief explainer for anyone who doesn't follow British public outrage:
BHS (British Home Stores) was a chain of department stores in the UK controlled by Sir Philip Green, the chairman of Arcadia Group, which also owns Topshop, among others. The chain was shuttered in the summer of 2016, and 11,000 jobs were lost, as well as £571 million from the pension fund, leaving 22,000 former employees without retirement income. Having taken £400 million in dividends from the failed retailer, Green was sailing the Mediterranean on a newly-purchased super-yacht as the last stores closed. Man kan ju förstå Jason Williamsons vrede. SPIN
6 Foo Fighters (US)
Concrete and Gold
är
bandets
nionde album.
Packat högtalarna fulla med ljud har de ju gjort sedan debuten för 22 år sedan. Och de är fortfarande ett band med rätt få lägen.Goda ansatser till ett mer sensibelt låtskrivande, med akustiska gitarrer och läckra körer, som i "Dirty water". Nya albumet heter "Concrete and Gold". Aftonbladet
7 Susto (US)
SUSTO's excellent new LP
& I'm Fine Today
, is in many ways a clarion call toward the band's bigger, bolder, more ambitious present. Gone is the humble, even ramshackle acoustic alt-country of the group's debut, a record which often felt like a Justin Osborne solo project. In its place is a full-band painting with purposeful aims. Yes, there is the sumptuous lead-off track "Far Out Feeling," a track that lumbers with psychedelic wonder before erupting into cinematic string and horns with grandeur that practically shouts the band's bigger budget and upwardly mobile ambition. Charlestoncitypaper
8 The Moonlandingz (UK)
är egentligen ett sidoprojekt som i huvudsak har skapats av Adrian Flanagan och Dean Honer från Sheffield och Electronic Research Council samt Lias Saoudi (även känd som Johnny Rocket i rollen som sångare i Moonlandingz) och Saul Adamczewski från Fat White Family.På det nyligen släppta albumet har även Charlotte Kemp Muhl från fina The Ghost Of A Saber Tooth Tiger en roll och Sean Lennon vakar över hela projektet. The Moonlandingz bör likväl betraktas som ett musikkollektiv med bas i London. Interplanetary Class Classics spelades emellertid in i Sean Lennons studio i New York.Plattan innehåller elva låtar och det handlar mycket om stora arrangemang med mäktiga synthmattor. Man har verkligen lyckats med att skapa underbara ljudmattor på den psykedeliska spacerockens vackraste stigar. HYMN
9 Fleshkiller (NO)
is a
death metal
band from Norway, Europe
[1]
and
Indiana
, United States. The band plays a style of
thrash metal
and
death metal
, which was influenced by Death, but with a sense of harmony of
Progressive rock
, which was primarily influenced by Yes.
[5]
The band remains close lyrically to what Extol had promoted through the
Christian metal
genre.
Wikipedia
I dove in and found one of the most pleasantly enjoyable progressive death metal albums I've heard this year. It might be thematically challenging to some, but what lies underneath is top-notch artistry using heaviness and catchy passages as primary musical drivers. Itdjents.com
10 Susanne Sundför (NO)
Susanne Sundfør gör musik för människor i knipa
. Hon är en av Nordens mest innovativa och internationellt hyllade artister. Hennes låtar tonsätter känslostormar i tv-serien SKAM. På nya albumet gör Susanne Sundfør musik för en bekymmersam tid. SR.se
Albumet "Music for people in trouble" är inspirerat av en resa från Nordkorea till Amazonas djungel. Det är ett mångfacetterat album där varje sång har en egen identitet, men där ändå helheten håller samman. Aftonbladet
Ni har två veckor på er att lyssna och rösterna (1 - 6 poäng alltså) skall lämnas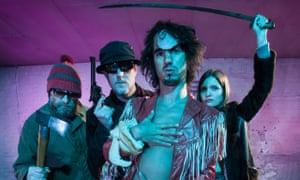 The Moonlandingz